Cu 104 puncte din 168 posibile, Kangoo Z.E. a castigat titlul atat de mult disputat Van of The Year 2012, devansand modele precum Iveco Daily, Fiat Ducato si VW Caddy. Prestigiosul trofeu a fost inmanat lui Jean-Marie Hurtiger, Director al Diviziei de Vehicule Utilitare Renault, in cadrul galei de deschidere a celei de-a 14-a editii a salonului International Trailer din Belgia.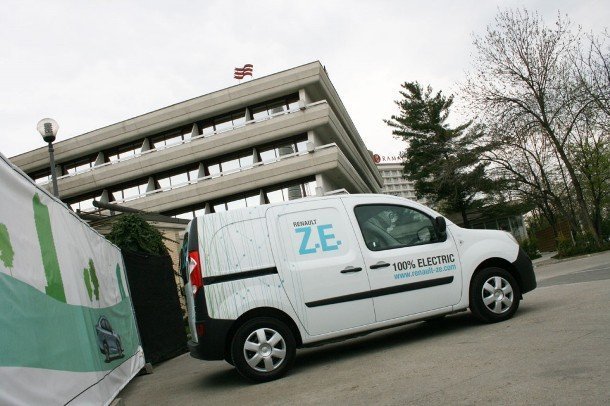 Pieter Wieman, presedintele juriului a declarat : "Cu Kangoo Z.E., Renault reuseste sa transforme vehiculul electric intr-o oferta accesibila clientilor de furgonete din Europa. Acest model are si o contributie majora la protectia mediului inconjurator, una dintre cele mai importante probleme din domeniul transportului rutier de marfuri".
Jean-Marie Hurtiger a declarat. " Acest premiu rasplateste eforturile echipelor Renault care s-au dedicat in ultimii ani proiectului Kangoo Z.E., unul din cele patru modele ale gamei electrice Renault. Compania in integralitatea sa a fost implicata in aceasta aventura, fie ca vorbim despre centrele de design, uzina de la Maubeuge sau echipele comerciale. Au acceptat aceasta provocare intr-un mod remarcabil, demonstrand determinare, creativitate, dar mai ales un spirit extraordinar de echipa".
Kangoo Z.E., un vehicul comercial by Renault
Gama Renault, numarul 1 in vanzarile de vehicule utilitare in Europa incepand cu 1998, se extinde prin lansarea Kangoo Z.E., versiunea electrica a modelului Kangoo. Este prima furgoneta 100 % electrica integral produsa de un constructor in uzina. Kangoo Z.E. propune aceleasi capacitati de incarcare si aceleasi dimensiuni ca si varianta sa termica, datorita amplasarii bateriei sub planseu. Gama Kangoo Z.E. include 2 variante de lungime si 3 versiuni, toate produse in uzina MCA Maubeuge din Franta, pe aceeasi linie de productie ca si Kangoo termic. Este vorba despre Kangoo Z.E., Kangoo Z.E. Maxi 2 locuri si Kangoo Z.E. Maxi 5 locuri. Aceasta diversitate vine in intampinarea unei multitudini de nevoi ale clientilor profesionali, dedicat atat transportului de marfuri, cu un volum util de la 3 m cubi la 4,6 m cubi , cat si celui de persoane.
Primul model Renault Z.E. accesibil
Kangoo Z.E., primul model din gama Renault Z.E., are un pret de 20 000 € fara TVA in Europa (fara stimulent fiscal). In Franta, Kangoo Z.E. este propus la 15 000 € fara TVA datorita bonus-ului de 5 000 € oferit de stat. Bateria este inchiriata incepand cu 72 € fara TVA / luna pentru un contract de 36 luni si 10.000 km.